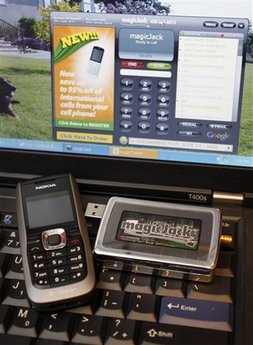 You know the popular company on TV that highly promotes their cheap internet phone gadget – Magicjack – has done it again. They are coming out with a device that allows free phone calls from your cell phones in your home.
Here's How The New Magic Jack Works
The new magic jack device will piggy-back on radio frequencies that large cell phone carriers have paid billions of dollars for. Essentially, the device is a very small cellular tower for the home. Also called femtocells – routers that allow a users cell phone to connect to them, as opposed to Wi-Fi or an Ethernet connection.
Just as the original MagicJack, the device needs a broadband internet connection. Once a compatible cell phone comes within 8 feet, the device would detect it and place a call to it. A short code is entered by the user, the phone is then linked to the device and the MagicJack routes the call over
the internet rather than going through the carrier's tower.
What Cell Phones Are Compatible With The New Device
Dan Borislow, YMax CEO, states that the device will work with any phone from AT&T and T-Mobile USA,
but most phones from Verizon and Sprint Nextel won't connect to the device.
Although this is another ingenious idea and product from YMax, what are the legal implications of
this device?
Well, AT&T, T-Mobile and the Federal Communications Commission currently have no comment on the
matter, but they are looking into it.
Borislow mentioned that it is legal because wireless spectrum licenses don't extend into the
home. Look for the new device to be coming out in the second quarter of 2010 at a $40 price-tag for
one year. If it catches on like MagicJack did, YMax could double their customer base and give the
cell phone companies a run for their cell-phone minutes.